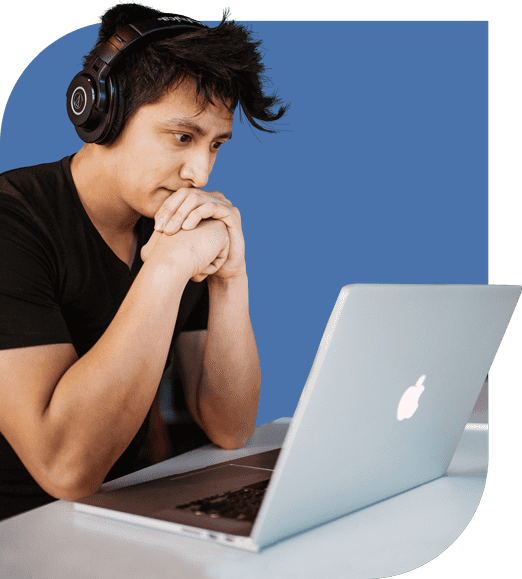 Gró IT
IT/Fractional CIO
Keeping your team connected and your data secure can be an ever evolving issue and concern for your business. As a Managed Services Provider, Gró IT provides business IT solutions that are both scalable, affordable, and secure. You will have a skilled, US-based IT professional to take care of your IT, networking, compliance, and security needs.
IT & Fractional CIO Services
Managed IT Services (MSP)
Gró IT will manage all of your business's IT needs in one package. By trusting Gró IT, you and your team will have the network, email, security, and devices you need to get the work done that you need to.
This program is ideal for business owners who:
Need to have their computer network, e-mail, database and Internet access up and running 24/7/365 without problems

Value the security of their data and want to do everything possible to prevent loss, corruption, or theft.

Want to maximize the speed, availability and performance of their network

Hate dealing with—or thinking about—computer problems and other complexities of operating a computer network

Don't have the time or staff to deal with computer network maintenance.

Need professional and courteous Help Desk support

Want predictable, monthly costs
Network Security
Your information, secure. Gró IT specializes in keeping yours and your customer's information safe through various security measures. Stay in compliance and protect you and your company from hackers and internal threats with Gró IT.
Hacks & Attacks

Internal Threats

Compliance
VoIP (Voice over Internet Protocol)
Gró IT will make sure your connection needs are met with VoIP services. Whether you want to make a call from your laptop, your phone or even in a remote area, IT's solutions will keep you connected through a truly unified system.
The ability to take on your company's workload—With optimized technology, your VoIP system will never go down because too many calls are being made, and the system can grow with your business.

Low-cost and easy to install—Installing and setting up a new VoIP system in your office is easier and more affordable than you might expect. Our trained staff will not only provide all of the necessary training and help to make the transition smooth and worry-free, but we can also help you find the right solution that meets your budget.

A truly unified system—Do you have multiple locations and/or employees working remotely? Our VoIP system acts as if you are all in the same building. Easily transfer calls, create call routing, auto attendants and much more! Our system is customized to your unique calling requirements.
Cloud Services
Gró IT's cloud services are fully scalable for your needs!
Security: Your business's vital systems and data will be protected from loss and even theft.

Service and Support: We'll always be around 24/7 to serve your needs, and we'll monitor your systems to prevent any problems in the first place.

Data Protection: With our built-in data backup and secure data storage, you'll never have to worry about losing your data in the event of any disaster.

Tools You Can Use: When you need to control and manage your systems, we give you easy-to-use, intuitive tools to help you along the way including:

Virtual servers and desktops
Application hosting
Secure file sharing
Email hosting
Office 365
What Our Clients are Saying
Gro HR has been a long time and trusted partner of ours to provide HR and Recruitment needs to our company. We always have quick and proactive responses to all of our needs, our team really enjoys working with them. Gro has been able to grow with us at the pace we needed them to, and has ensured that we stay ahead of our competitors in key items like compensation and team culture/morale.
Derek Crockett
BLX Transportation
Myself and our non-profit have been working with The Gro HR Team on several HR needs for over a year now. Finding and hiring her has been the best decision for our HR needs and for our employees that we have made in a long time. She is professional, thorough, but also quick. She doesn't waste time on projects and communicates with myself and our staff very well. She has created several policies and procedures for our company, took on the project of implementing a new payroll system, and continually assists our management team with hiring the absolute best candidates for our transportation and logistics team. She is a pleasure to work with, highly recommend her!
David Jaffe
Jaffe Management
The Team at Gro HR were exactly the solutions that we needed in a time of crisis! We lost two key employees during the pandemic and had a gap in our payroll and HR functions. Gro HR was online and supporting our needs within a week of partnering together. I remain amazed at their ability to assess, assimilate, and act on information that is given to them. They truly "Own" the entire department and all related needs. Their partnership is refreshing and has gone beyond our expectations.
Daren Henderson
Medical Couriers
Working for a busy and growing company we knew we needed help when it came to all things HR. Gro reached out, explained how they provide a team of professionals to the table and they have not disappointed! They have helped us with onboarding, offboarding, insurances, recruitment and anything else in between. We highly recommend Gro!
Casey Scarlett
Jeff Woods Construction